Yesterday, we went to ice skate in some place in Jurong with the cannot-be-more-complete PAJIAO CLUB and xinyi and brandon with his 2 friends whom of course, I dont't recognise.
It was insanely FUN!
We met at 11am at CP and as usual, Late Queen Stef was as expected, LATE again despite the fact that I told her the meeting time was 10.40. =.=
After that took MRT, transit at Outram Park and we reached Jurong MRT Station, when 5 minutes later Tzumi came sashaying down the path to meet us to guide us to our destination.
After lunch at KFC, which served rather disgusting and visually unpleasant objects (I won't consider them food), we went to take Neoprints. Excluding the fact I looked like a complete retard in the Neoprints, everything else was okay. Next, we went to the ice skating place, Fuji Ice Palace. HAHA, lame name.
There was a competition going on and everyone was like, "WTF!? Damn!"
Until Xinyi came to tell us it ends at 1.30. I glanced at my watch, 1.25 =.= ERPS.
Everyone unanimously yelped, "CHEY!"
We paid $14.70 each, those that went in with group admission. That includes skate rentals and unlimited time! It was rather worth it, I thought.
Started skating, fell like twice, which is great improvement!!! And now I can really go quite fast, compared to the others. That's why everyone is so afraid of me. HAHA. And Tzumi was a huge disappointment. She claimed that she was coached before AND even showed me the picture of her coach and his acheievments. Turned out she was no better than Lishan and I but just a little better than the newbs.
There was one hilarious moment, when the already-noisy surroundings were interrupted by a ear-piercing scream. Everyone turned to the direction of the scream. There was Tzumi and a man in the 40s. WHAT WERE THEY DOING?
The guy was on the floor, with his legs stretched to the fullest and Tzumi was on her knees, and on the man's knees. Don't understand? She was kneeling on the man's legs. =.= SO FUNNY. Then she climbed over, or actually dragged herself over the man's legs. I was more worried for the man though. Did his leg bones crack or something?
And there was this time when Lishan and I were skating. Lishan fell + we didn't let go of each other + I didn't fall and didn't know how to brake efficiently = Lishan was dragged (glided, if you want a more graceful word) through a short distance before coming to a complete halt.
A pro guy came, and questioned me, "Were you the one gliding, or was it her?"
LOL.
At about 5.45, we left the ice-skating place.
Xinyi and Brandon went off. We went to the food court and camwhored.
Tzumi: "ME LOVE ICE KACHANG! EAT MORE!"
"I shall take me first bite of the cold ice I stole from the ice skating rink!"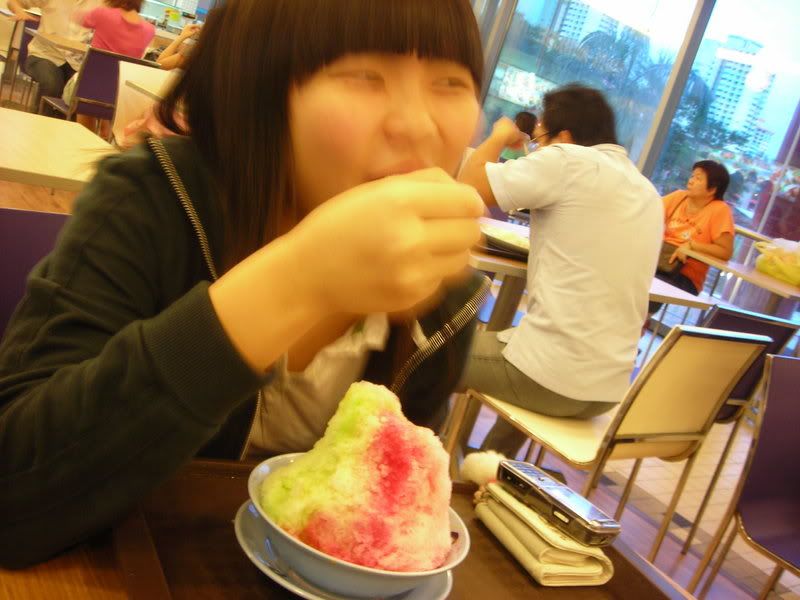 "MMMM! YUMMAY!" *face lit with content and delight*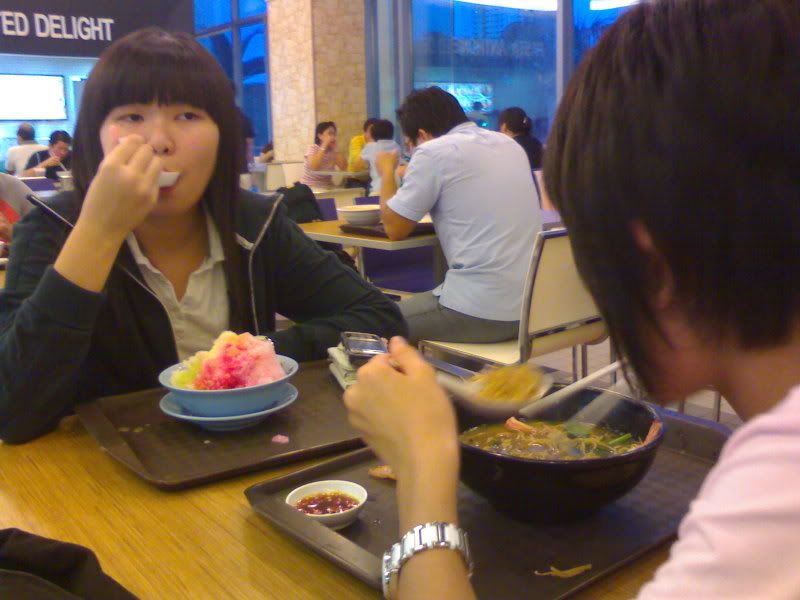 "You know, I really enjoy my food! How about you?"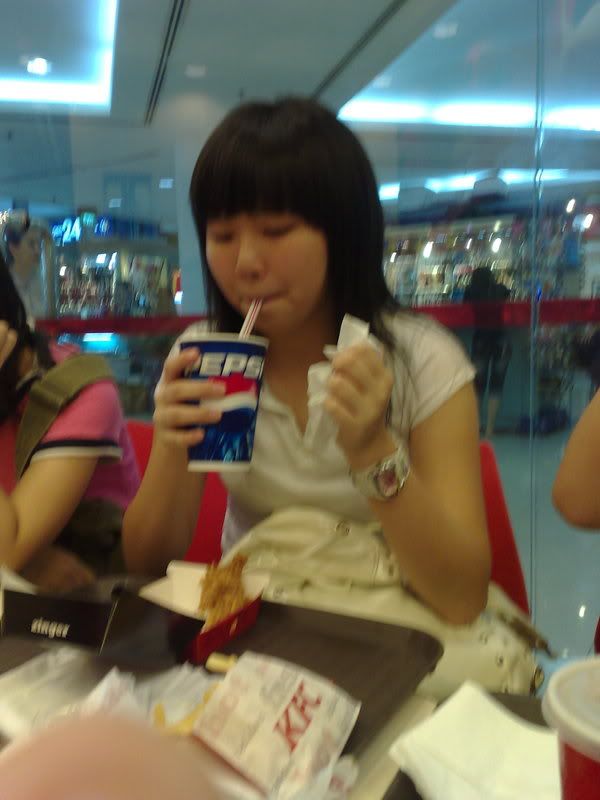 *drains drink**lick lips**grabs tissue tightly to supress growing hunger*
"Pass me your fries will you?"
Tzumi the glutton. HAHA just joking =) Said that to save my poor life.
The neos we took. Blur. Will scan in later.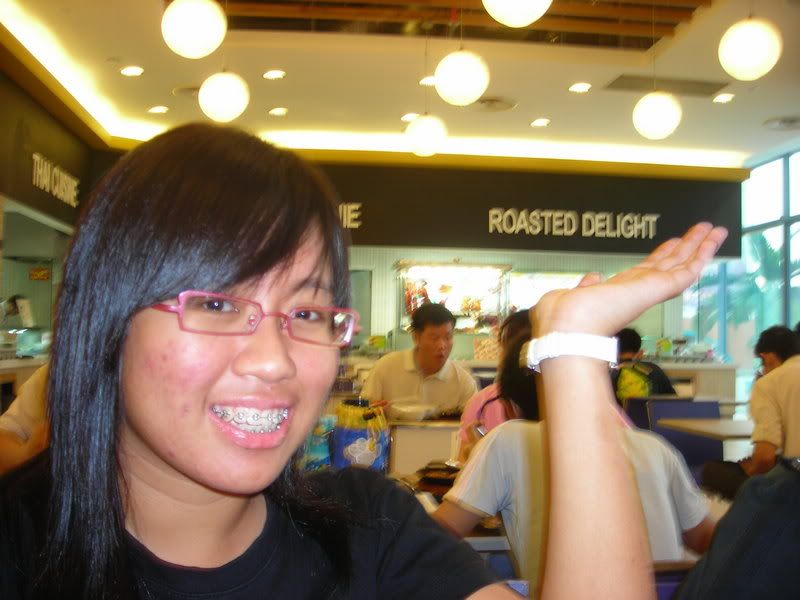 Stef introducing herself.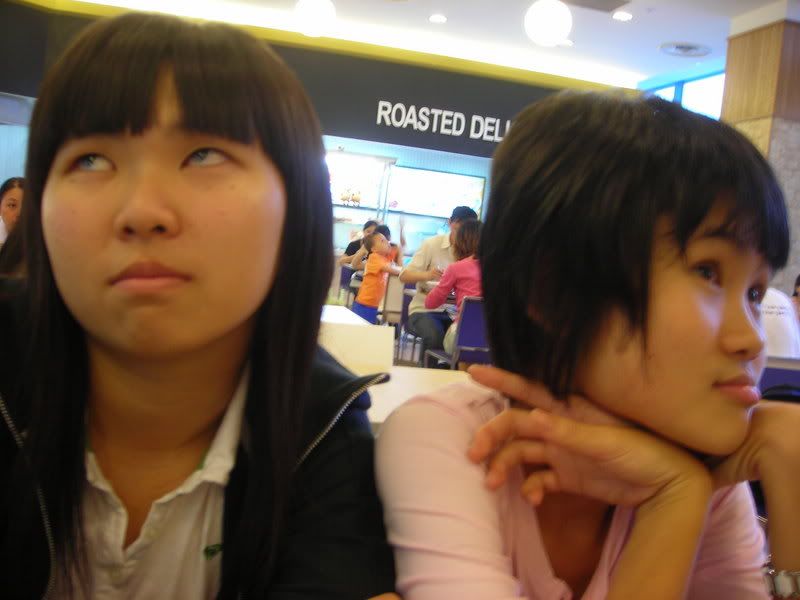 Tzumi: "I don't care whether you like or hate my ice kachang, but all the same you shouldn't pour it away!"
Lishan:"I like what! Cannot ar?"
T & L: "I don't want to talk to you!"
Tzumi:"I might try to eat you up, Roasted Delight! You look yummy!"
Lishan: "Hehehe! Roasted Delight looks yummy!"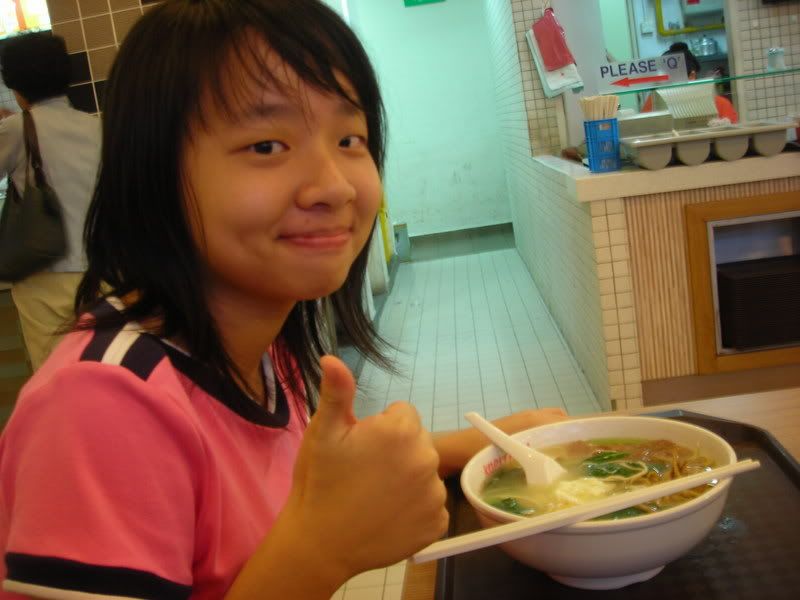 JiaPei: "Nonono. Mine is the NICEST!"